Gemini Saturn printing software - easier than any printer driver and as powerful as a RIP
Are you looking for an easy-to-use, yet professional printing solution with perfect colour management? That grows your productivity and your efficiency at lower costs?
Fed up with operating system updates that render your printer driver unusable?
That your RIP software works like a black box instead of being a "big help"?
That you are forced to buy updates just because you bought a new printer for which there happens to be no driver available for your RIP version?
We have the answer to all your printing challenges: Gemini Saturn!
Gemini Saturn is the complete, easy-to-use, highly specialised printing software for professional and home users, whether in photo or Fine-Art printing or general business printing.
All the proven and cool features in one app.
Saturn works on Mac and PC with thousands of printer makes and models. And because Saturn drives the printer without printer drivers, we promise it will even work with printers that are yet to be introduced!
TEST US - TEST SATURN!
See for yourself and download Gemini Saturn:
It's free!
You do not have to register or or leave any personal data behind!
Start using it for 14 days!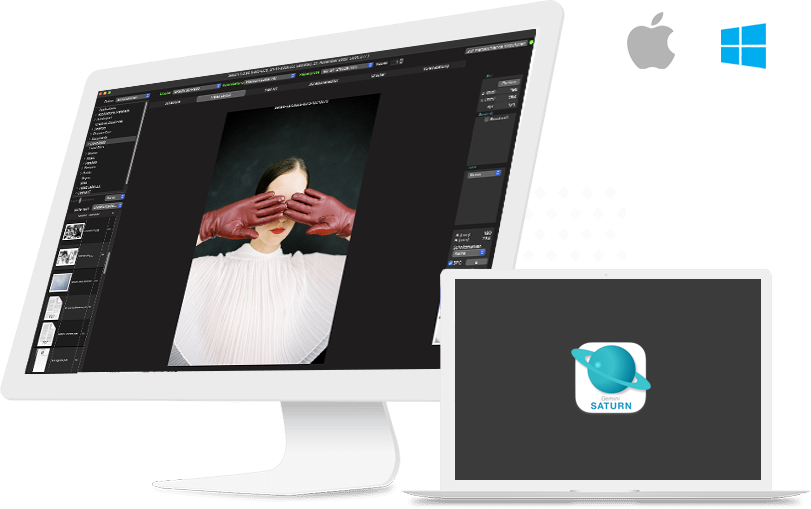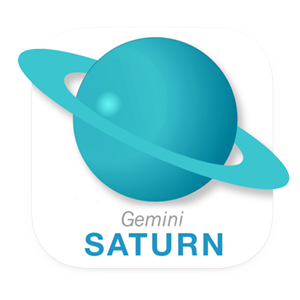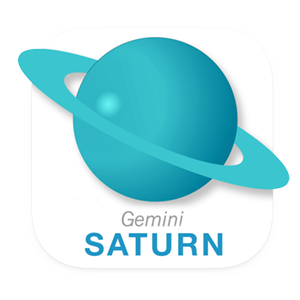 How does Gemini Saturn stand out?
Saturn is a sophisticated printing software that takes your finished images (retouched in Photoshop, lightroom) as Tiff, Jpeg or PDF as input.
Saturn makes your workflow much easier and ensures excellent prints in top quality, with the power of a RIP without the complexity or the price.
Required layouts can be made with just a click. The Saturn learning curve is extremely short and steep. In no time at all, you'll be printing with Saturn as if you have done so all your life.
And you'll always get exactly the results you want.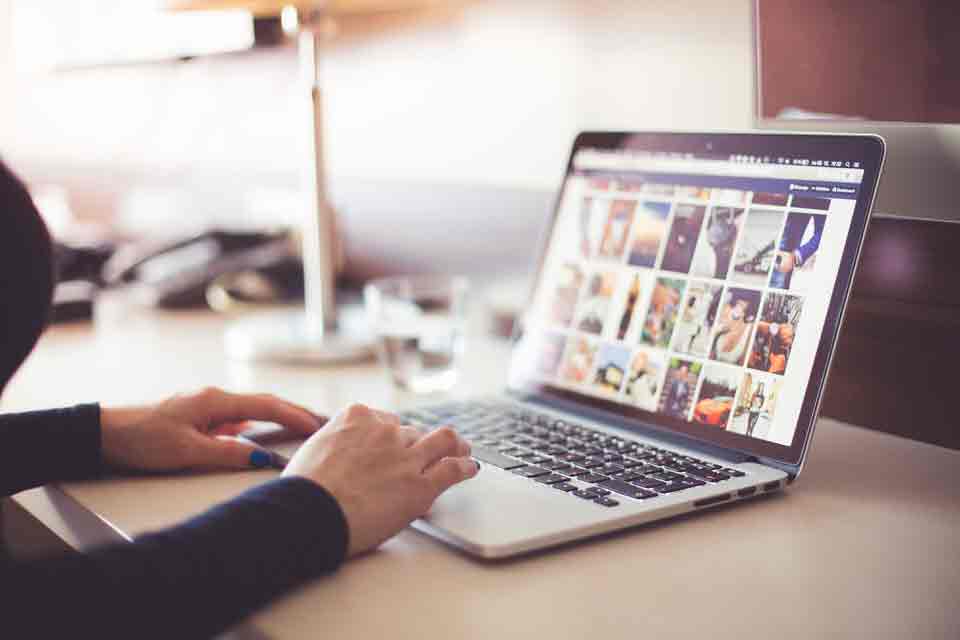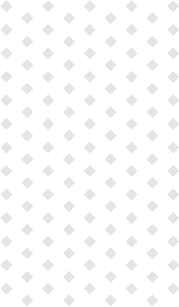 All printers
Works with any modern printer.
Flexible print layout
With templates and free layout you can create any layout.
Perfect colours
Load Printer ICC profiles in Saturn or have them custom created for your paper.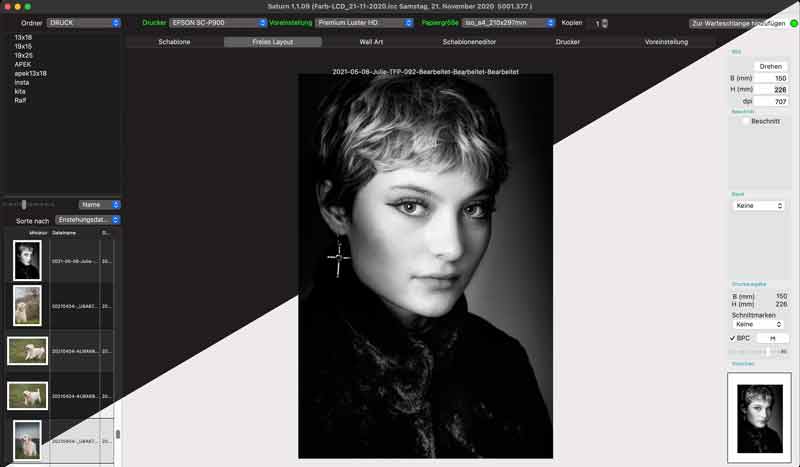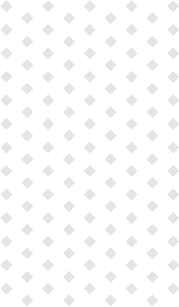 Light Mode and Dark Mode on Mac and PC
With Saturn, printing is easier, faster and better than ever.
For PC and Mac (Intel and M1) with the same user interface cross platform.
No printer driver installation required - simple and future-proof.
Automatic updates and downloadable auto-installing Presets.
Built-in Nesting functionality on sheet and roll - paper saving made easy.
Colour-managed print preview - no surprises with colour and placement on paper. Saving you time and money.
All print jobs at a glance
In the "Printers" tab you can clearly see all your print jobs and their status, the ink level of your printers and you can repeat a print from the print archive.
You can set any print size, crop and optional white or coloured border and even mirrored borders for canvas prints.
Use supplied print layouts for one or more images on a sheet, or create your own layouts to work faster.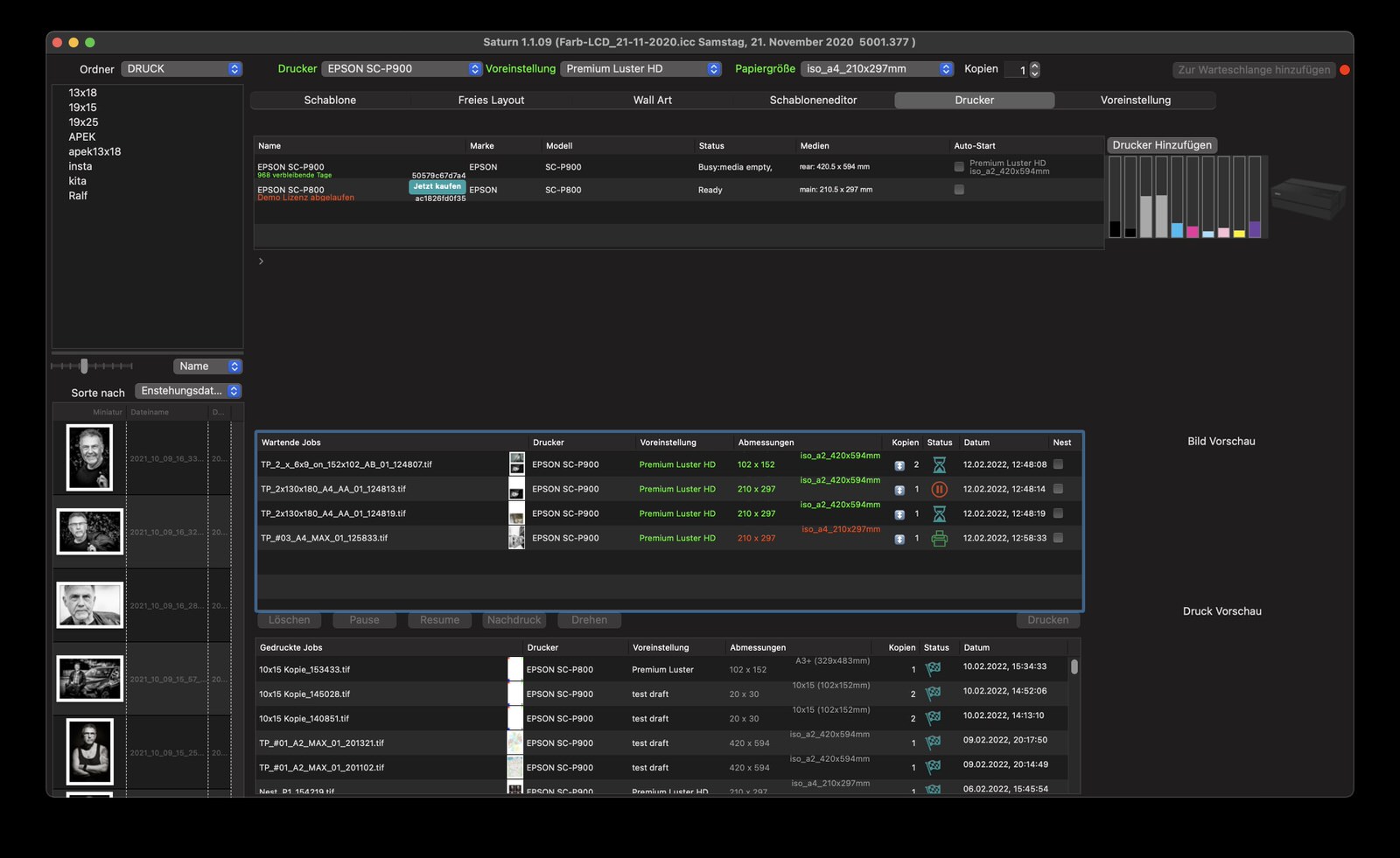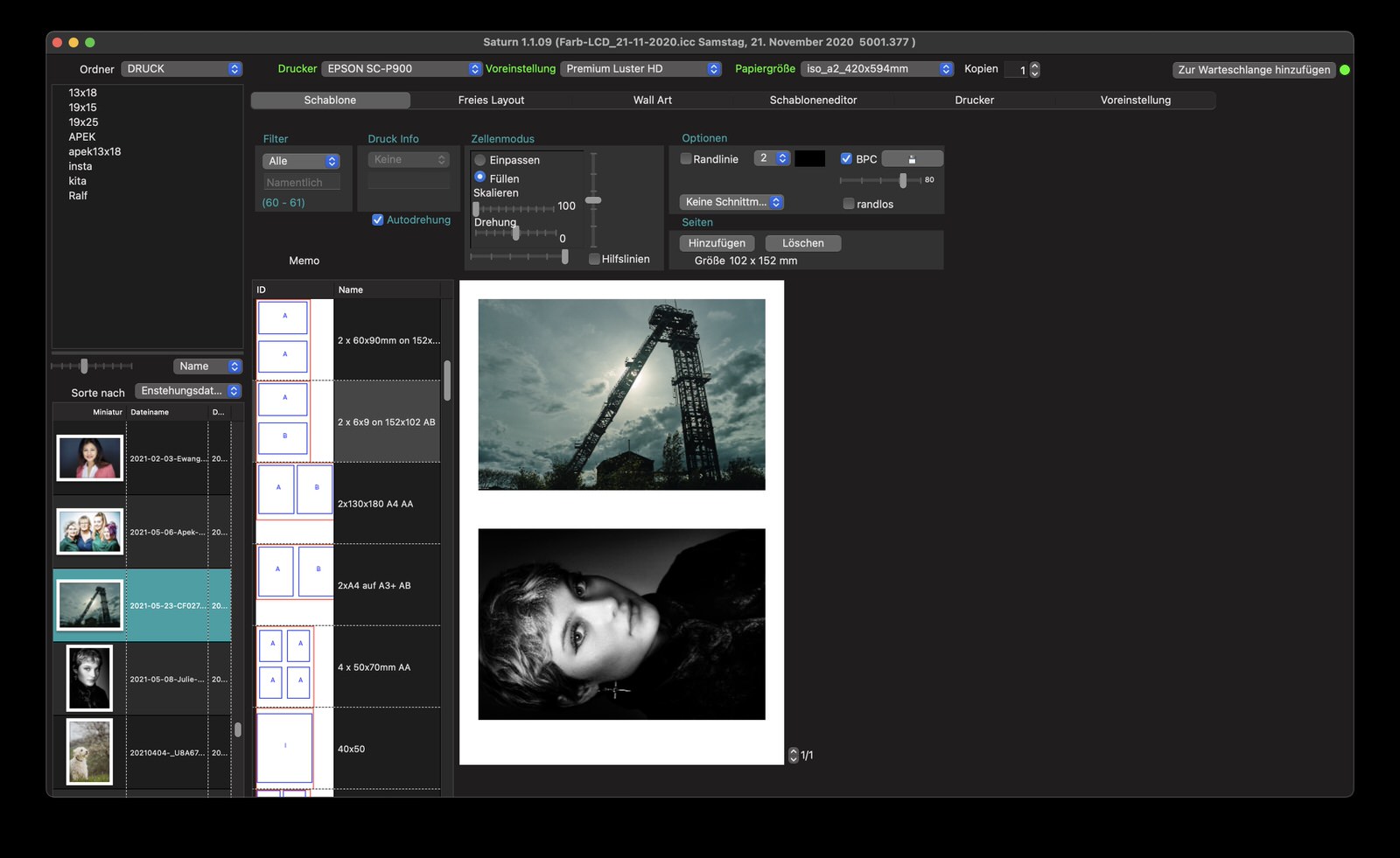 Everything you need to print
These key features make your life easier. A lot can be done with just one click - and when we say one click, we mean one click. The Saturn learning curve is extremely short and steep. In no time at all, you'll be printing with Saturn as if you have done so all your life, and you'll always get exactly the results you want.
Colormanaged
Colour managed WYSIWYG interface.
Templates
Use pre-defined or custom-made print layouts.
Cloud presets
Add media settings and ICC profiles with one click.
Universal
Supports almost every modern printer with network connection / WLAN.
Reference print
Integrated test print with colour control strip for easy verification. 
Easy to profile
Print ICC profile targets with one click and measure them or send them in for measurement.
Nesting
Extremely easy to use Nesting function - saves your valuable paper
Roll printing
Printing on rolls without selecting sheet sizes and save media with Nesting.
Length compensation
Exact print length compensation for canvas - so that 2 meters are exactly 2 meters.
Intelligent sharpening
Intelligently sharpen based on print output and file input size.
Blackpoint Compensation
Visualize and fine-tune black point compensation with relative rendering intent.
Up to 6 printers
Drive up to 6 printers and run Saturn on as many Macs or PC's as you like.
Convince yourself
Put Saturn through its paces with your printer
- Free of charge for 14 days.
- No registration required.
- No email address required.
- Remote and email Support available.
- No annoying advertising emails.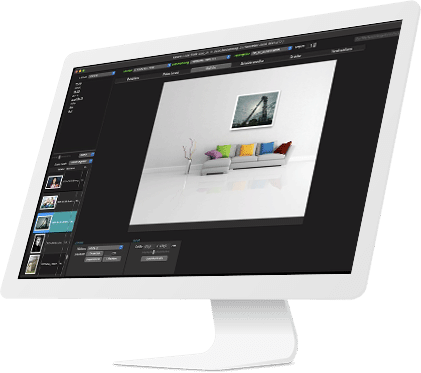 Hardly anything is as convincing as personal recommendation. Our customers are happy to recommend us.
My switch from Mirage was super easy and I definitely won't look back. Saturn fits seamlessly into my personal workflow.
Top service! If something is not running and customers are waiting, the support team knows how to solve the problem in no time. 
Gemini makes high-performance, good software you can depend on and that delivers top printing results. That's exactly what we need.
I used to order everything from the lab because printing was too complicated for me. Since I got Saturn, printing is really fun!
Answers to frequently asked questions.
Is Saturn a plugin for Adobe Photoshop or Lightroom?
No, Saturn is a standalone application for Mac and PC. You can easily save print files from your applications and then print them with Saturn. 
Are updates free?
Yes, neither within the test period nor for licence holders are updates or upgrades charged extra. They are available via autodownload.
I have two or more printers, is that possible?
Up to six printers can be driven. You can use them simultaneously and from several computers, Mac and PC.
Does Nesting work on roll media?
Yes, you can nest multiple jobs on any sheet size or roll of any width. 
Is the test really free of charge?
Yes, the test is even possible without providing your email address, we don't need any personal data or payment from you. We think this is the fairest way possible.
Is my printer supported?
Very likely, yes. Saturn works with almost any printer that is available in your local network and supports IPP / Airprint or Bonjour. These are almost all modern printers. Even some old printers work with a workaround if you share them in the network via CUPS.
Do I have to use specific media?
Absolutely not. You can use any paper available for your printer, it doesn't matter if you prefer office paper for handouts or photo papers from Epson, Kodak, Hahnemühle, Tecco, Canson, Ilford or whatever brand.
Can I upgrade my operating system risk free?
Yes, Saturn will continue to run. We keep Saturn up to date and support the latest operating systems. Since we don't use drivers, you can work as usual and update your operating system or your image editing programmes as you please.
Is Saturn also available for Linux?
At the moment we only support Windows and Mac OS.
Can any printer be ICC profiled?
Yes, with Saturn you can ICC profile any printer. Even on office printers with office paper the results are much better with a profile than without. 
Where do I buy the licence?
First install the programme. In the Printer tab, after adding your printer, you will see a "Buy Now" button and the remaining test period. This way you can be sure that everything works perfectly.
Do you have any further questions?
We will be happy to answer any questions you might have. You can use the contact form for this or the Contact Support button in Saturn. Install Saturn for free and use it for 14 days and you will see it's self explanatory. 
Address
Gemini Systems GmbH, Hauptstraße 44-46, 53804 Much, Germany